Papoutsakia
---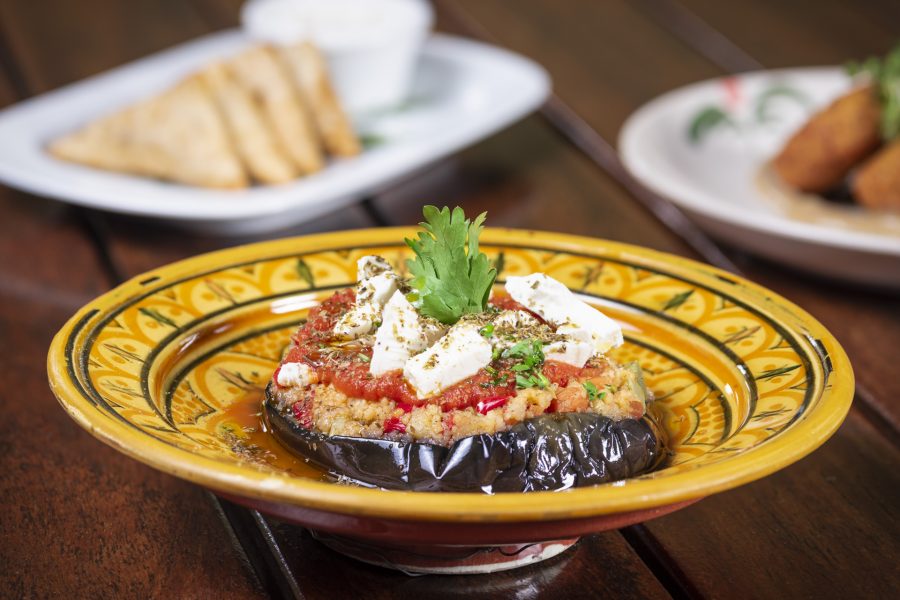 4 servings:
2 aubergines (450-500g each)
150g leeks
120g carrots
100g peppers
180g zucchini
40g couscous
80g feta cheese
1 bunch of fresh parsley
salt, pepper.
For the Neapoletana (tomato) sauce:
150g diced canned tomatoes
60g onion
Preparation:
Wash the aubergines, chop their tops off and cut them in half lengthwise, carefully hollow them out with a spoon to about 1 cm thickness. Salt the hollowed out aubergine halves and set them aside to rest and release excess moisture, for at least 2 hours.
Fry the aubergines in hot oil and rest them on a paper towel until drained of excess oil.
To prepare the filling, first, fry the leek in a large saucepan or pan, then add the carrots, peppers and zucchini, all diced, season with salt and pepper, when the vegetables are cooked, turn off the burner and add the couscous. During the preparation, we can also add some white wine and vegetable soup. Fill the aubergines and serve immediately topped with a touch of tomato sauce, crumbled feta cheese and finely chopped parsley.
Prepare the Neapoletana (tomato) sauce by first frying the onions in the pan, fry the onions until they start to caramelize, then add the whole peeled tomatoes. Season with salt and pepper and cook to a certain density. When the sauce is done, process it with a stick blender. Optionally, you can add a variety of Mediterranean herbs during the preparation.
Tips: You can use the middle part of the aubergine for various dips. In the restaurant we usually roast it and mix it with sesame and turmeric with a touch of olive oil. We then process it with a stick blender.
The recipe is originally from Greece. Papoutsakia is translated as little shoes, and this dish actually resembles little shoes when served with 2 aubergines. The original recipe is prepared with minced meat and bechamel sauce in the oven.